Travel Club Alumni Reviews
Travel Club Alumni Reviews
If you're curious about what former EHS students, parents and teachers who have traveled during Spring Break trips with the Travel Club and EF Tours have to say about their experiences, just take a look below for some first-hand accounts. Nothing helps to inform a decision better than reviews and word-of-mouth.
What I really enjoyed from my experience with the Travel Club is the ability to see new places and learn about their history and sample the the country's fine foods . I really enjoyed my 2 trips with the club and would recommend the experience to anyone.

- Justin Camara, EHS World Traveler, 2012 & 2013, Class of 2013, Italy, Greece, Germany, Austria and Switzerland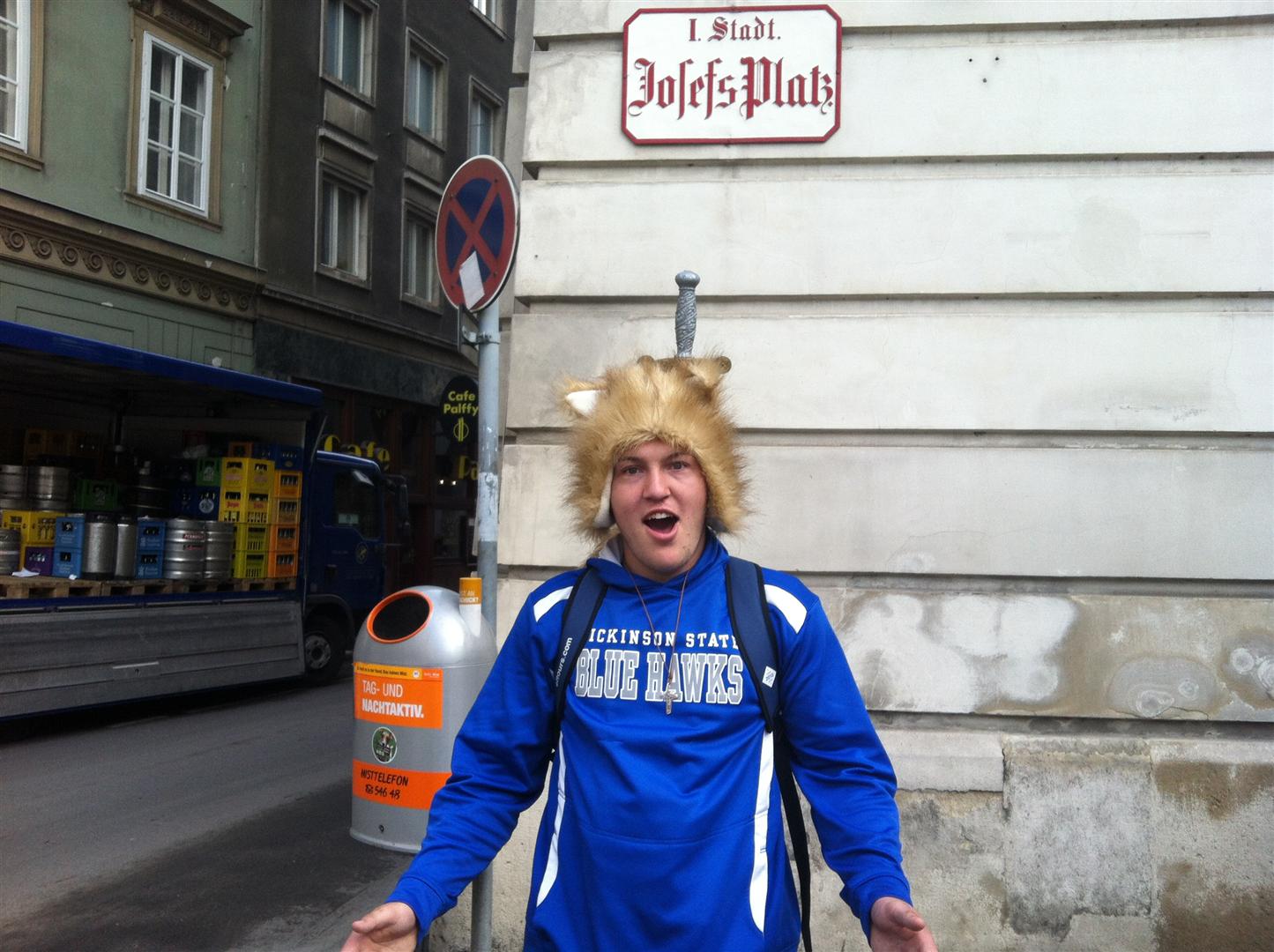 Justin seems surprised to be in Europe. Again. This time it's Vienna, Austria. (2013)
I have had the wonderful opportunity to travel with George Megenney and my daughter the last four years. The experience I shared with my daughter and the education I was able to provide for her in all the places we traveled cannot be expressed in words. We traveled to Portugal, Spain, Africa in 09/10. Ireland, Wales, England, and France in 10/11. Greece and Italy in 11/12 and my daughter is the one that got injured on the cruise (by her own fault) and she received excellent care on the ship and in Greece and also through the injury was able to, as well as the whole tour group, tour the Captain's Station and get a private tour of the most important place on the ship. Last year, my daughter's Senior year, we went to Austria, Switzerland, Germany and the tiny country of Lichtenstein. I have enjoyed every aspect of the trip from airport to airport and country to country. Never in my wildest dreams would I ever thought I would be able to travel like this or offer this awesome opportunity to my daughter. EF Tours offers payment plans and all the accommodations needed for a safe, fun, educating experience. You can read about the concentration camps and watch movies like "The Boy In The Striped Pajamas" but nothing matches the educational impact of actually walking the grounds of Dachau Concentration Camp and hearing the tour guide explain what happened and where. Parents, I know this is a big expense for all of us, but the education and the opportunity you give to your children through these trips are PRICELESS.

- Theresa Langum, Attendance Secretary, Dent Elementary School and EHS World Traveling Parent, 2010-2013, Portugal, Spain, England, Ireland, France, Italy, Greece, Germany, Austria, Switzerland and let's not forget tiny little Lichtenstein.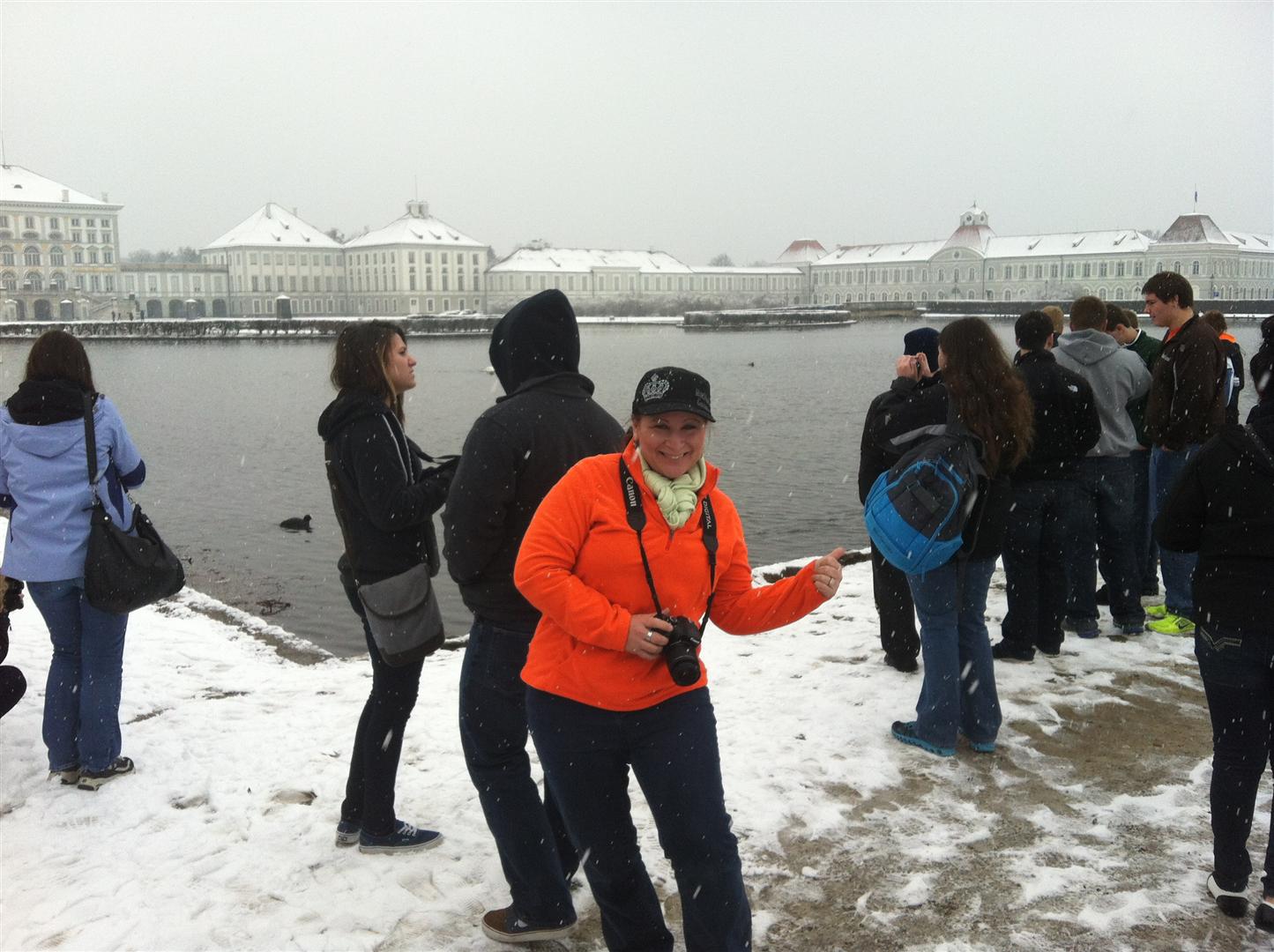 Theresa enjoys a moment for a snapshot off the tour bus in Munich, Germany. In the background Nymphenburg Schloß (that's the word for castle in German by the way.) (2013)
My name is James Ristrim and I traveled to Europe with Mr.Megenney in the spring of 2011. Our trip consisted of the countries England, Ireland, Wales, and France. The tour was conducted through EF tours, which I consider a great company. We visited many of the major cities of each country such as; Dublin, London, and Paris. The activities provided in the tour of each city were enjoyable and usually consisted of the major attractions of each city. We had the options to visit places such as the Guinness brewery in Dublin, the London Eye, and go on top of the Eiffel tower in France. These trips are very well organized, which makes everything easy on you as a tourist. Your only responsibility is to have fun and show up on time to the places you are told. There are also plenty of extra activities you can do throughout your trip which you can do in your free time and not with the group necessarily. Not only is the aspect of the traveling fun but the social aspect is great also. In my group there were about 6 people from Escalon whom I know. It is always a fun time hanging out on a trip like this with people you know. Also there was another group of high-school students from the East Coast. It was nice to interact with people from different parts of the country and to experience the trip with them also. At the end of the trip I was very happy with everything we had done and with my overall experience of the trip. The trip was worth every penny and it was an experience I will never forget. I can confidently say that I recommend these trips to anyone who is interested in having a good time and seeing some beautiful places around the world. - James Ristrim, EHS World Traveler, 2011, Class of 2012, England, Ireland and France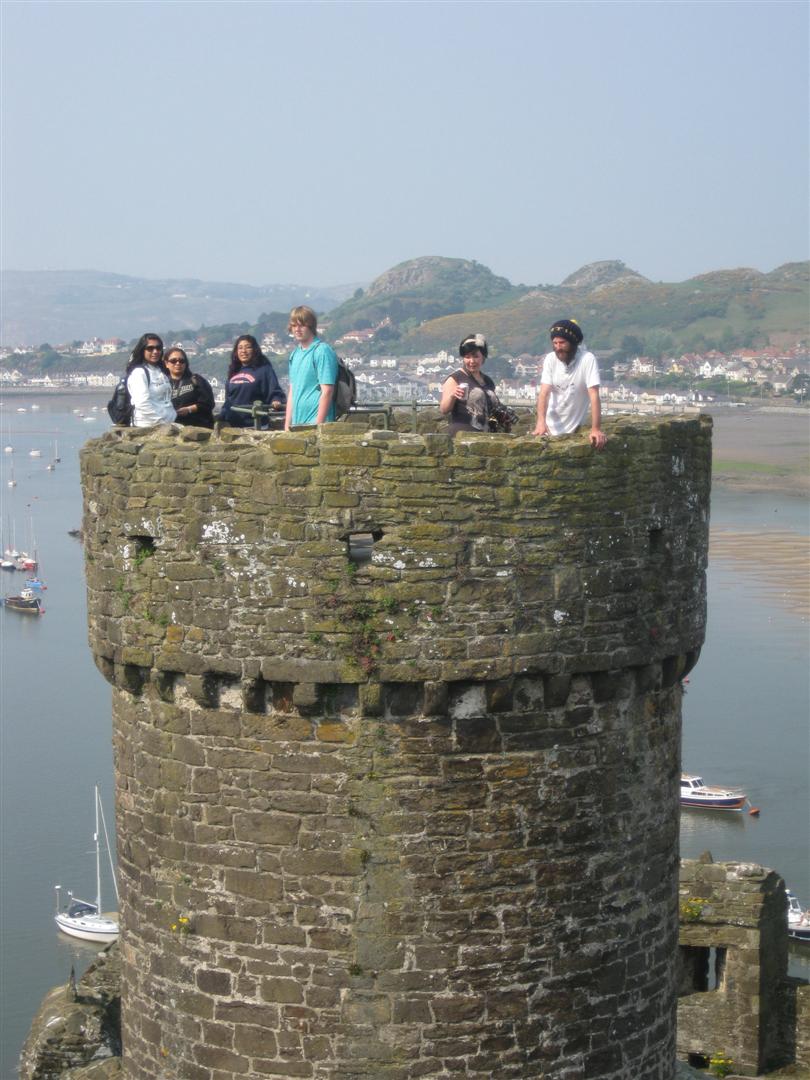 James is pictured in the center of one the towers of Castle Conwy in Wales. (2011)
Going to Europe was one of the best experiences of my life. I have never been on an airplane nor gone outside of California until this trip with the Travel Club. We went to Italy and Greece during my junior year and it was an eye opener. I got to see things that you only read about in textbooks like the paintings in the Sistine Chapel and the Parthenon on the Acropolis. The emotions I felt at these places cannot possibly be reproduced in a classroom setting with just a few pictures and a lecture. I remember standing inside the Colosseum and thinking about all the gladiator fights that happened right here, almost 2,000 years ago. Actually visiting these sites gave me a deeper connection to that era and put a whole new twist on the history of those cultures for me. Each day was jam packed with events which was nice because we didn't have to worry about which sites to go see or what places we should go visit. Everything was taken care of for us and we just had to go with the flow and enjoy! I know many people worry about the cost of the trip, but it was definitely worth every penny. Plus, with the fundraising we did that year, each of the five students on the trip saved over four hundred dollars thanks to the tireless efforts of Señor Megenney to try to make these trips more affordable for students and not miss out on a once in a lifetime experience because they don't want to spend the money. I highly recommend these trips with the Travel Club to anyone who is curious and interested in other cultures. -

Stephen Wong

,

EHS Wor

ld Traveler, Italy and Greece (2012), Class of 2013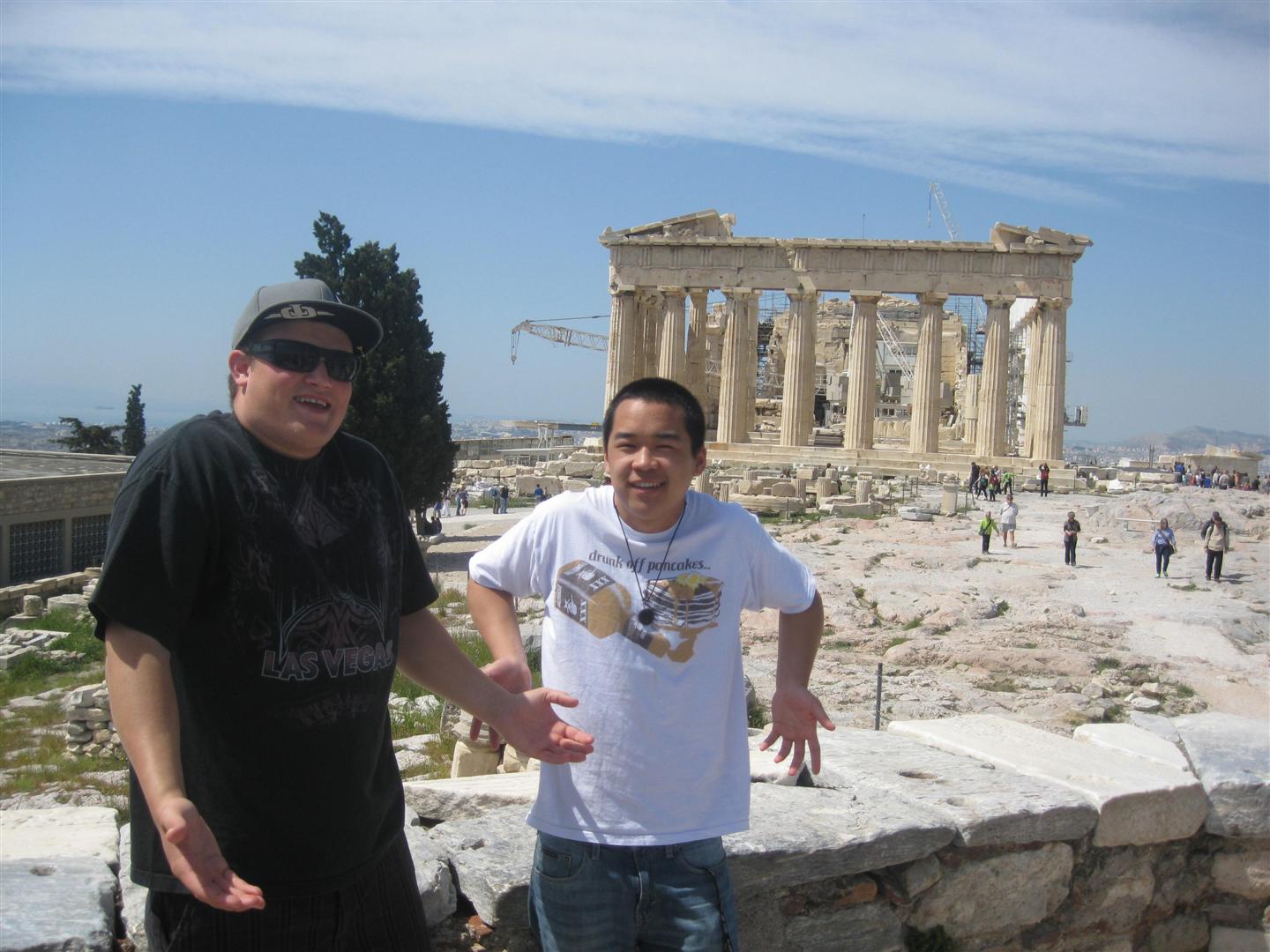 Stephen Wong & Dante Bandini have a good time at the source of democracy: Athens, Greece, in the background is the majestic Parthenon. (2012)
My name is Doug Gilham Jr. and I traveled to England, Ireland, Wales, and France with Mr.Megenney during Spring Break of 2011. It was one of the best trips that I have ever been on. EF tours took care of almost everything while we were in Europe, which made the trip more enjoyable and allowed the rest of us to do more sightseeing and activities. Not only did we see some of the most well-known sights in Europe (e.g. Big Ben, Westminster Abbey, and the Eiffel Tower), but we also got to just explore and see how similar Europeans are to us. We were also in said countries during some of the most well-publicized events in recent history. For example, we arrived in London, England the day after Prince William's royal wedding. In all, EF Tours allows people to see the world for a relatively modest cost, so I would highly recommend that you go on one of these trips, if you are able to. – Doug Gilham Jr., EHS World Traveler, 2011 (England, Ireland, Wales, and France), Class of 2011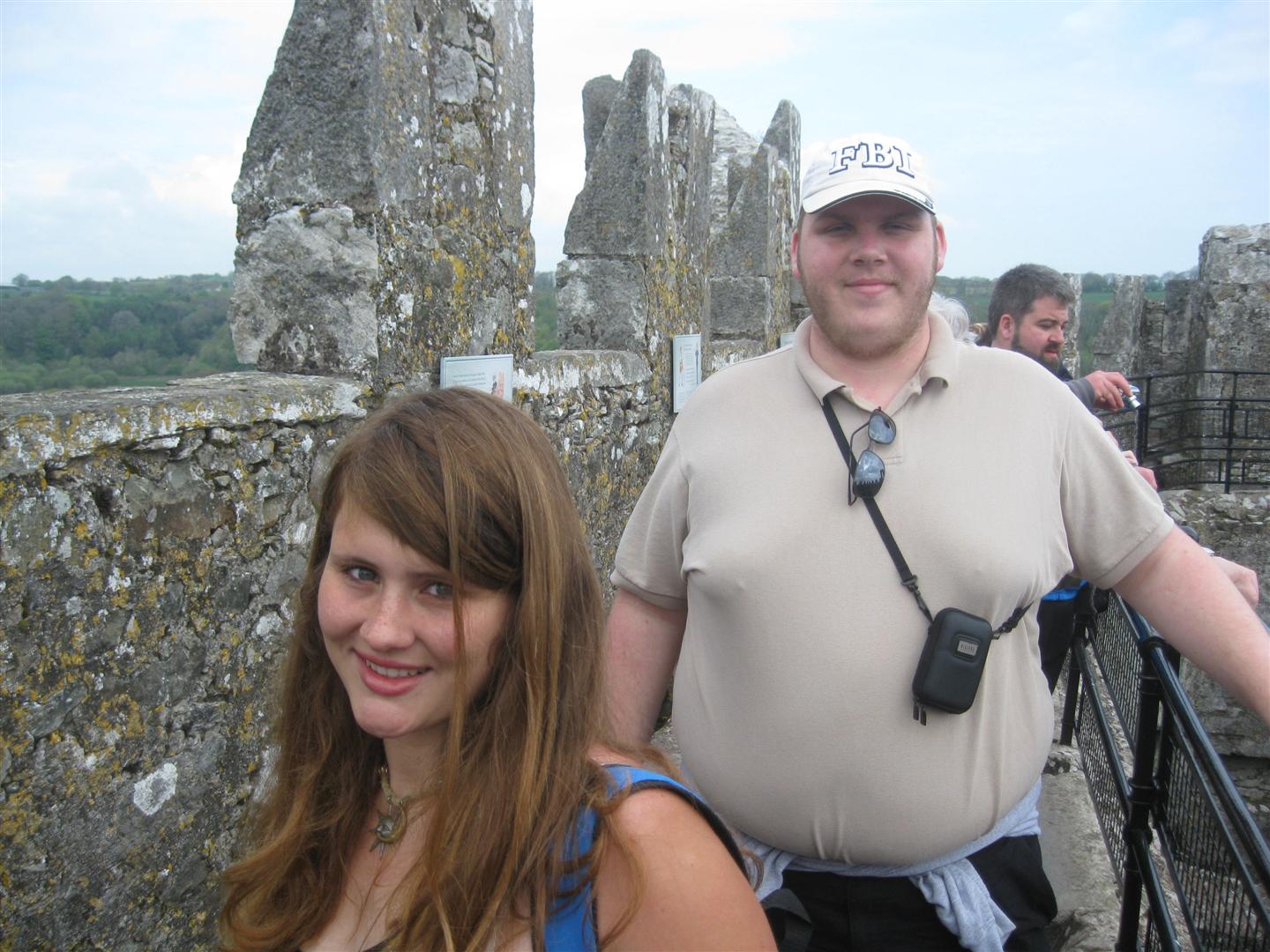 Doug is contented that he has successfully scaled Blarney Castle in Ireland, home of the famous Blarney Stone. (2011)


My name is Kayla Segale, I went to Italy and Greece with Mr. Megenney and

the travel club. This was an experience of a life time and I would do it

all over again if I had the opportunity. I met amazing new people from

Europe and a few other people from across America, I still talk to one of

them and we are good friends to this day. I experienced new food and

culture, from walking the streets of Rome to hiking up the island of Capri;

every moment was spectacular! We held many fundraisers to make the trip

affordable; which made it more of an opportunity for many students. I

recommend you go on the trip because its something you will never forget

and will enjoy the entire time. -

Kayla Segale, EHS World Traveler, 2012 (Italy and Greece), Class of 2013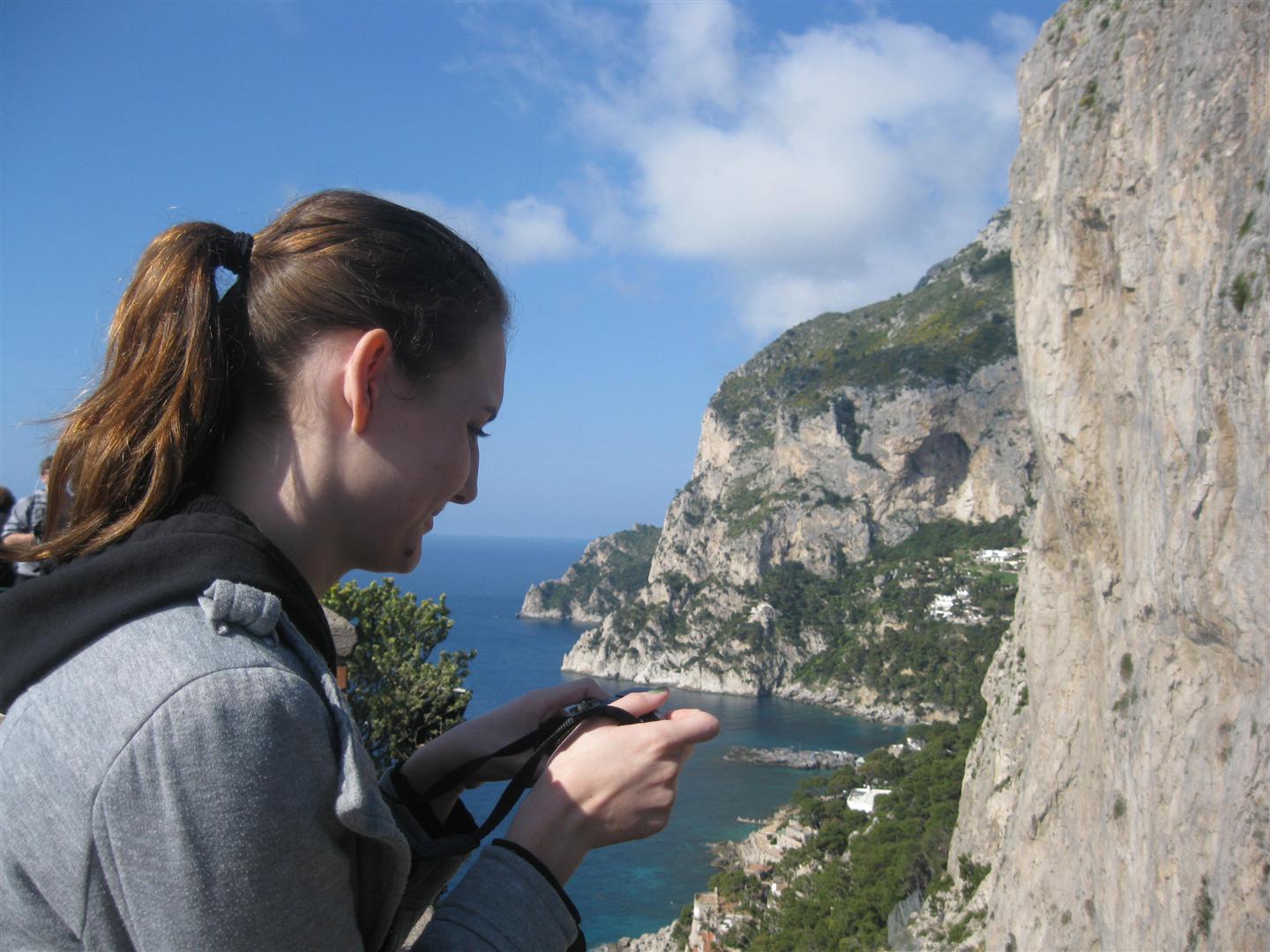 Kayla reviews a picture she just took overlooking the spectacular Italian island of Capri.
In the spring of 2009, I went on a 10 day trip to France and Spain with a few of my friends and Mr. Megenney. I can't emphasize enough how significant this trip was as part of my high school experience. We had the amazing opportunity to visit many museums and historic locations that I had read about but never thought I would actually be able to see in person. My favorite location we visited was the Louvre in Paris, France. That was the one place I wanted to go to more than any other place on Earth. The artwork we had the privilege to see is world famous and it was a once in a lifetime chance for us to see it up close and in person. I really can't describe how extremely special that was for me. I feel so lucky to have traveled to more places in high school than most people get to visit in a lifetime. Mr. Megenney was a fantastic chaperone. He allowed us the freedom to explore so many amazing places while also ensuring we were all safe and never went anywhere unless we were in a group. I would encourage every Escalon High School student to go on one of Mr. Megenney's trips. It is a fantastic opportunity to see some truly amazing places in a safe and informative environment. -

Kelsey Withrow, EHS World Traveler, France and Spain, 2009 (Class of 2010)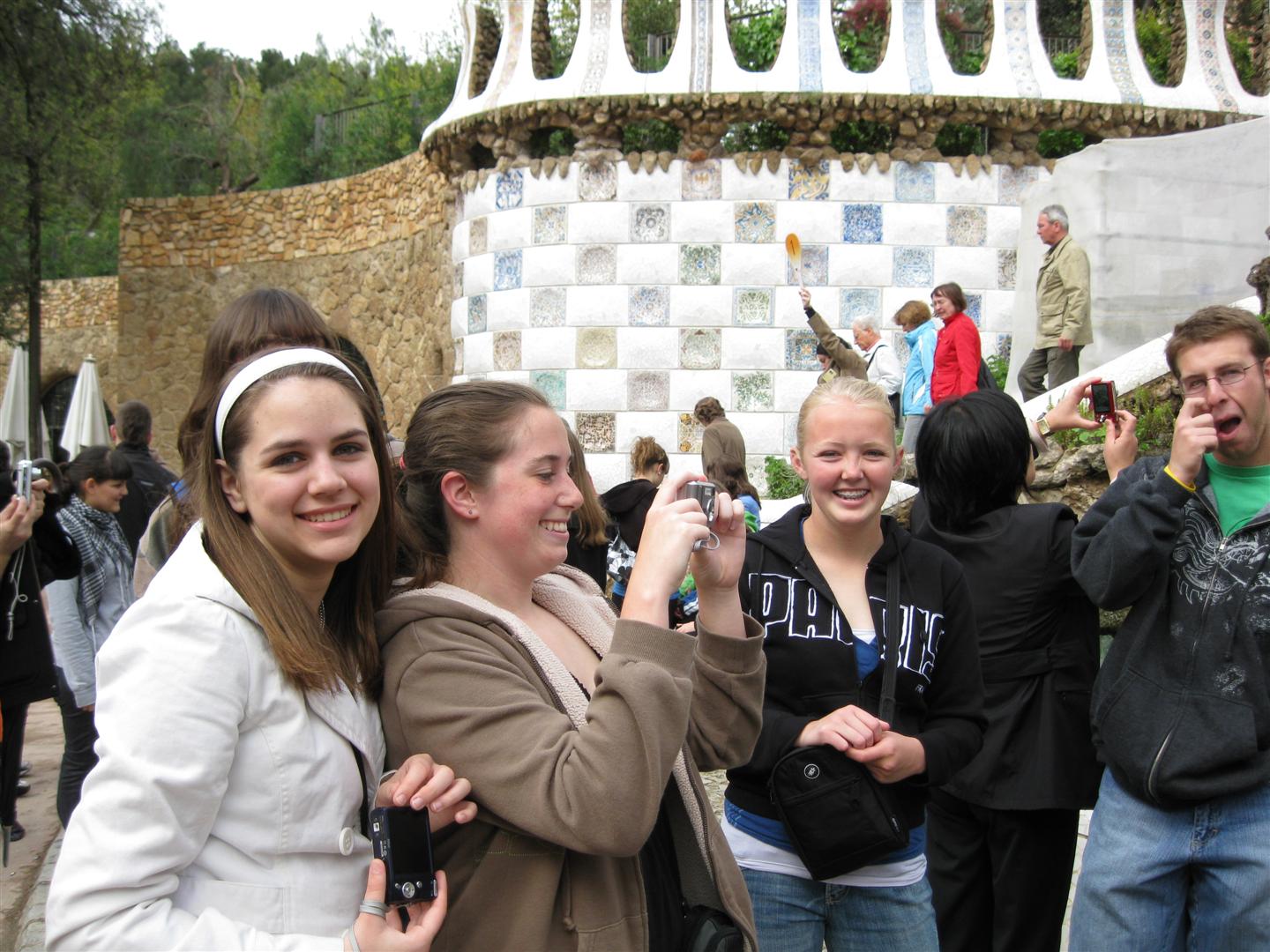 Kelsey (pictured far left) enjoys a moment with friends at Park Güell in Barcelona, Spain. (Editor's note: Since I couldn't find a picture of Kelsey in the Louvre, I settled for this one.)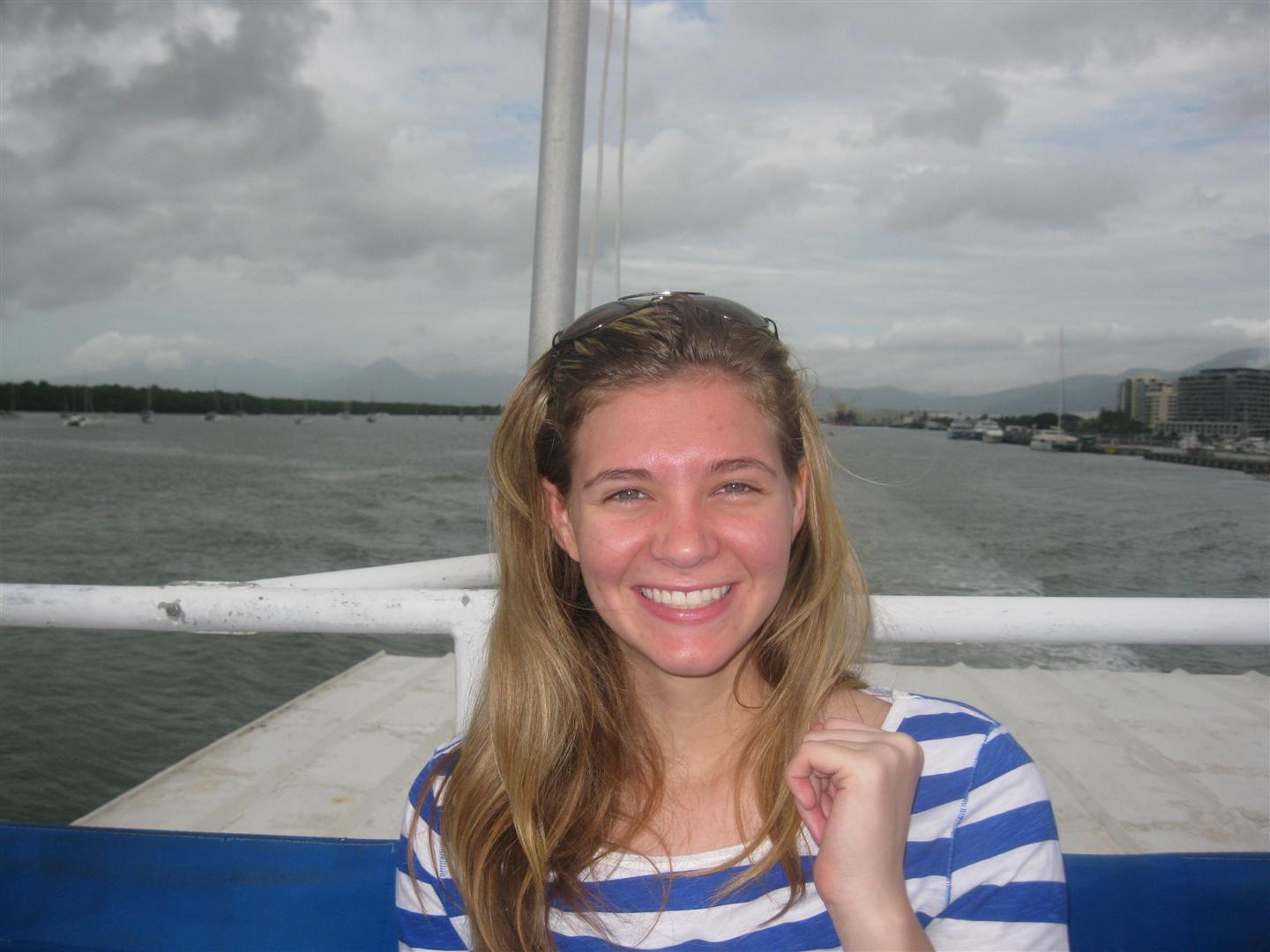 Cassie Murken enjoys a day in Australia on her way to the Great Barrier Reef. (2014)
In April 2014, I had the most wonderful opportunity to travel to the most spectacular place on earth. New Zealand and Australia. In NZ, we got to visit every Hobbit and Lord of the Rings fans dream. The Hobbiton. This, for those who don't know, is the movie set for the Hobbit and Lord of the Rings. The place itself was amazing and beautiful! along with visiting The Hobbiton, we met a kids our age that went to school in the north island. We had dinner provided by them and also played some games that got us knowing them and others of our tour group. Sadly, we had to leave the beautiful island of New Zealand and fly over to Cairns( pronounced cans), Australia. There, we rode a boat all the way out to The Great Barrier Reef. For those who watched the Disney movie " Finding Nemo", that is his home. At the GBR, we went snorkeling. Others went scuba-diving and some went in a helicopter to see the magnificent reef from above. After leaving Cairns, we flew down to the Capitol, Sydney, Australia. We toured in down town and went to a wildlife park, went to an aquarium and of course, went shopping! With our small group of Escalon students and staff, we were joined with a group from Puerto Rico! At first, we didn't really talk much with them, but by the end of the trip, we became fast friends. Although it's far away from Escalon, California, I still keep in touch with some of them. I'd advise anyone to go on a trip with the travel club. Not only is it fun and beautiful, the connections and friends that you make, stay forever in your mind and pictures. -

Cassie Murken, EHS World Traveler, 2014 (Class of 2014)